Congratulations to the Class of 2020! Due to the COVID-19, so many 2020 graduates will not get the opportunity to wear their cap and gown across the stage to claim their diplomas. However, that doesn't mean that graduation can't still be memorable for you or your loved ones! Intimate gatherings at a private event venue or even at home can be a great alternative to traditional graduation ceremonies.
Here are a few tips on how to host a safe & fun a graduation celebration amidst the worldwide COVID-19 pandemic.
Determine Your Budget
Determine the budget that best fits within your means for your graduation celebration, because it will play a huge role in other decisions for your celebration such as where you'd like to host your graduation celebration, the number of people you'd like to have in attendance, and the menu you'd like to have for your guests.
Choose a Location
Once you've settled on a budget, it's time to decide where you'd like to host your graduation celebration. If you'd like to have a more formal, upscale celebration with ample room for your guests to move around while social distancing, book a private venue like Eventfully Yours. Invite a few of your fellow graduates to host a collaborative graduation celebration that feels just as real as walking across the big stage. During your graduation celebration at Eventfully Yours, you can allow the opportunity for fellow graduates, family, and friends to make speeches to add an extra level of intimacy.
If you prefer an intimate graduation party with friends and family, host a small celebration at home instead. With the help of Eventfully Yours, it's easy to make your home celebration pop by renting table coverings from our premium selection of linens. We have a wide varieties of linens to suit your event needs -- from a lustrous satin fabric to a classic cotton blend.
Create Your Guest List
Once you have determined your budget and the location for your graduation celebration, it's time to create your guest list! If you host your graduation celebration at a private venue such as Eventfully Yours, you'll have ample room to host a larger number of people while maintaining social distancing. However, if you decide to host your graduation celebration at home, it is recommended that you limit your guest list to no more than 15 guests depending on the amount of space you have available. You can expand your guest list virtually by providing the option for other friends and family to live stream your celebration using a platform such as Zoom. This video feature is tailored for large parties; it will allow up to 100 video participants and 10,000 attendees. Even more, the host can easily manage the audio and video throughout the event. It also allows the host to register who will be attending the event.
Send Your Guests Safety Rules & Regulations
We know that it's important to take extra cautionary measures during the pandemic, and the thought of ensuring that all of your guests oblige to all health measures can be stressful. At Eventfully Yours, we have strict policies in place for our guests and staff that adhere to the CDC's COVID-19 requirements. We also keep a large stock of cleaning and disinfecting supplies including soap and water, hand sanitizer, and disinfectant wipes.
If you are going with an at home option, it's highly recommended to require all of your guests to wear a mask. It is also recommended to encourage elders such as grand parents to not physically be in attendance for your celebration since they are at the highest health risk.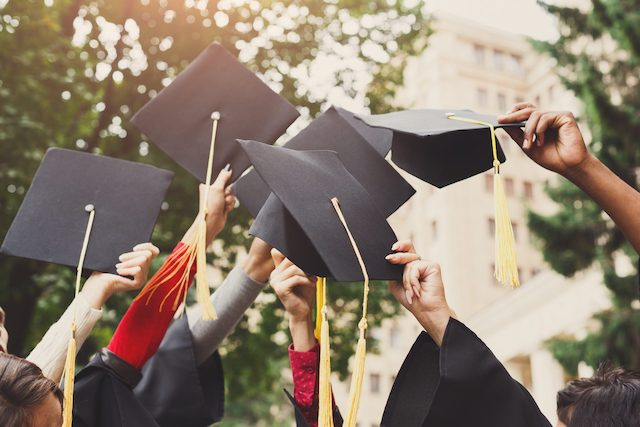 Select Your Decorations
Decorations such as chair covers, sashes, tablecloths, table runners, and table skirts, which are available for rent at Eventfully Yours, can easily take your celebration from casual to upscale . Rent linens in your graduate's school colors or opt for textured lines to create a more luxurious feel. For example, our white rosette tablecloth is the perfect understated and elegant detail. These options are available whether you decide to book our venue or if you decide to host your graduation celebration at home.
Although we are living in unprecedented times, there are still ways for us to adapt and make life's most special moments as memorable as possible. For more information on how to plan a COVID-friendly graduation party for your loved one, please feel free to contact us. Our team is happy to help!