MonaLisa and Gary's wedding, hosted at Eventfully Yours Special Events Venue in North Richland Hills, TX in 2019.
We now pronounce you almost married.
It's true: Due to the pandemic, weddings all over the world have been put on hold, which has caused a lot of stress for couples who are eager to tie the knot. Although it's important to take all necessary pre-cautions to keep your guest list safe, love does not have to be cancelled due to COVID. With creative planning and great venues like Eventfully Yours, you don't have to wait as long as you might think to get your ceremony back on track. Read on to learn about the three simple steps you need to take to start planning a COVID-friendly wedding.
COVID-FRIENDLY WEDDING

STEP 1: AUDIT YOUR GUEST LIST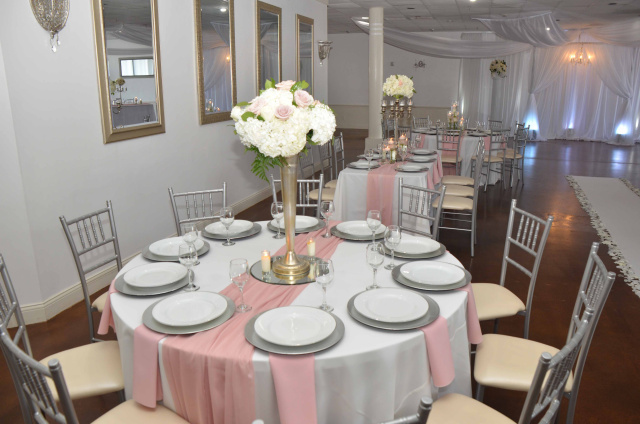 Stunning and chic wedding decor designed by the Eventfully Yours team
Your wedding is one of the most special moments of your life, so it's understandable to want all of the most important people in you life to be attendance. Since that is not feasible amidst a worldwide pandemic, it's essential to prioritize your guest list so that only the most essential people are physically in attendance for your COVID-friendly wedding. Take your time to review and reorganize your guest list by creating three separate categories: who you need to be there, who you would like to be there, and who no longer needs to be there. This will make it easier for you to determine how much space you'll need and how to best communicate wedding updates to your guests.
COVID-FRIENDLY WEDDING

STEP 2: BOOK A LIVE STREAMING CAPABLE VENUE
Wedding Reception hosted at Eventfully Yours Special Events Venue in North Richland Hills, TX (Pre-COVID)
Remember those guests you added to your 'maybe' list? Due to COVID-19 they may not be able to attend your wedding in person, but they'll be able to witness your nuptials from the comfort of their own homes using live streaming.
Once you've updated your guest list, contact your venue to discuss their live-streaming capabilities. If they don't have any, we highly recommend that you find a new venue that does offer live-streaming capabilities such as Eventfully Yours. We have three packages to choose from to best fit your needs. When you book a live-streaming package, you can invite up to 65 in-person wedding guests to our 5,000 square feet venue and connect with your additional guests via live stream.
Video hosting has become essential during the pandemic, and it's here to stay. The pandemic shows that video hosting is now an essential part of communication and connection -- from business to school and YES -- weddings too! When you integrate live-streaming at your wedding, you'll feel happy knowing that everyone is accounted for and present.
COVID-FRIENDLY WEDDING

STEP 3: UPDATE YOUR GUESTS
Wedding reception decorations for someone's special day hosted at Eventfully Yours Special Events Venue
in North Richland Hills, TX
You've updated your guest list and you've found a wedding venue that allows for social distance seating and live streaming capabilities. Now it's time to contact each guest to let them know how you have adjusted your wedding to be COVID-friendly. Provide the guests who will be attending your event in-person with details about special protocols that will be in place. Make sure that your guests who will be live streaming your wedding have all the information they need such as the date of your wedding, the time it begins, and the link to access the live stream.
Love always wins! Although your wedding day might be a bit different than you expected, you can still have a beautiful experience by following these three simple steps. If you are seeking an event venue in the Dallas/Fort Worth area with live-streaming capabilities to host your COVID-friendly wedding, we're here to help! Please contact us for more information and we'd be happy to help.